Corporate Sponsorship - The Sydney to Hobart Race


Over US$1800 billion is invested in sport each year around the world
Who are the REAL winners of corporate sponsorships and why is it on the rise?
The Telstra Sydney to Hobart Yacht Race is a great example of corporate sponsorship on the rise and like real estate, the return on the race continues to reward those involved at some point.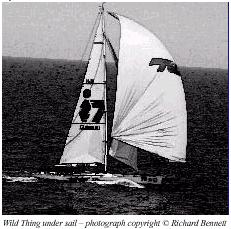 It is held on Boxing Day, the day after Christmas on 26 December.
The Sydney to Hobart Race has become a fantastic vehicle to promote products and services under the banner of an Australian sporting event that makes its own history each year.
The race is considered to be the 'Super Bowl of Yachting' in the South Pacific, according to sailing master Roger Hickman who has skippered SAP Ausmaid in previous races.
Since the end of World War II, the history of this race has become an integral part of Australia's yachting culture. Many veterans contend the Sydney to Hobart race played a significant role in the landing of the oldest sporting challenge – the 150-year-old America's Cup race in Perth in 1983 in which the United States, for the first time in the history of the race, lost the cup.
The list of people who want to be a part of the Sydney to Hobart race is growing and there is no shortage of large corporate sponsorship money coming in to owners of boats that are competitive enough to win.
In the Sydney Olympics Year of 2000, over 26 million hits were recorded on the official Telstra race Web site. This is up from 8 million in 1999 and 283,000 hits o being on the net in 1995.
This site received more hits than the Sydney Olympics (on a daily average) according to Suzie Powell, Sponsorship Manager of Telstra On Air in Melbourne, Victoria.
The 58th Rolex Sponsored Sydney to Hobart race started at 1pm on 26 December under cloudy skies, with 57 entrants the number was down from the average of 80 boats per year, with the largest fleet of 115 entrants in 1998.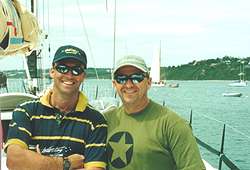 Victoria's favoured racing son, 38-year-old Grant Warrington, owner and skipper of the 83 ft carbon-fibre hulled maxi 'Wild Thing' will be sponsored in future races under a new name, Australian Scandia Investments. Grant has been in the race fifteen times.
- Grant Warrington & Rob Salisbury on Wild Thing at Mornington Dock Victoria
In 2000, Grant's boat had twice as many hits on his Web site than his nearest Australian competitor because people love following this race, be it on the shores of Sydney Harbour, or via television, radio or the Internet – and the numbers are growing.
On 26 December 2000, an estimated 300,000 people jammed the shoreline of Sydney Harbour from every possible viewpoint. To see one of the most spectacular starts in world sailing under crystal clear blue skies and light breeze is something that everyone should experience in their lifetime.
The race is a gruelling 630 nautical mile voyage and a cautious display of preparation and safety, mixed with the elements of the rich and famous.
The youngest sailor has been just eighteen with the most experienced in life at seventy-eight; rookies and veterans side-by-side.
The Ultimate Australian Yachting Honour
The honour of first boat and crew down the Derwent River to Constitution Dock in Hobart is reserved for the very best, the luckiest and recently the most heavily corporately-sponsored international teams in the race.
No Australian boat or team has won in recent years the last five years. It has come close, but there has been no champagne finishes of late.
For 2001, Qantas Airlines and a spirtied, low key automobile company sponsored the winning boat 'Alfa Romeo'.
The 2001 winning time was the second fastest in history with 20 nautical miles seperating 'Alfa Romeo' from second place 'Grundig', and well ahead of British yacht 'Canon'.
'Alfa Romeo', a 27 metre (about 90 feet) carbon-fibre yacht was designed in the United States by Reichel-Pugh. Estimated to be worth $6 million dollars, it took 19 months to prepare it from early design to the water.
The owner and skipper is New Zealand multi-millionaire auto importer Neville Crichton. He withdrew from the 2000 race after losing part of the main rudder on 'Shockwave' in very rough waters.
Neville said that investing 19 months to design a boat that could handle the stress and demand of the race was a major necessity in having any chance at winning this coveted race.
'Alfa Romeo' was sailed by a handpicked professional crew that had one purpose – to win the prestigious 2002 Sydney to Hobart Line Honours for his sponsors, crew and support team.
1998 Race meets up with a Deadly Storm
Most Australians and a worldwide yachting community remember the race of 1998 because it became the worst maritime tragedy in South Pacific racing waters in many decades.
Along the eastern coastline of Australia from Sydney to Victoria, 71 boats retired to shelter to avoid the 36-hour 'Bass Strait Bomb' that exploded with cyclonic-strength winds of up to 90 knots.
60-foot high waves with white caps of 10 foot were seen by dozens of sailors.Many said they had never experienced an ocean storm like this and were unprepared for the strength of the sea during this time.
With rescue ships and choppers from the military and private sector working around the clock for two days...fifty-five crew members were saved from 12 stricken yachts that called for help in the same 30-mile radius of difficulty in the ocean.
Seven of the twelve yachts were abandoned. Five sank never to be seen again and ultimately, six sailors died with five by drowning and one from a heart attack...three bodies were never recovered.
The headlines and national news stories reported a complete disaster for the spirit of the race and for many of the yachting teams, it will take years to recover from the financial loss of equipment.
Many will never really recover from the emotional loss of a fellow sailor, friend, family member or work mate who died or was never recovered.
If you have seen the big budget movie 'Perfect Storm' starring George Cloney, then you have got a picture of what it may have been like on the Tasman Sea from the 26th of December and onwards to the New Year.
The devastation of the storm prompted many changes in safety requirements and regulations in Australian ocean racing.
All of the safety changes have been applauded by Glenn Bourke, CEO of the race organising body, the Cruising Yacht Club (CYC) of Australia.
Certainly raising the safety standards has helped minimise the risks to the competitors and is securing more money from corporate sponsors to be invested into the crews and boats of the future.
Corporate and Individual Sponsorship Pays Off
After the learning experiences of 1998, Telstra, the official corporate sponsor of the 2000 race, received a good return in both naming rights and product sales as a result of renewed enthusiasm.
The investment was reported to have been about $700,000 in both cash and service support to the CYC. Likewise, the dozens of other sponsors got good value from the support of their favourite yachts and crew.
The Swedish maxi, 80ft. 'Nicorette', the overall Line Honours winner in 2000, boasted a corporate sponsorship of US$1.2 million and had an international team of professional sailors including Sydney based Olympian Finn, Anthony Nossiter.
The sponsor of 'Nicorette', billionaire Ernesto Berterelli, is known to have several businesses that benefited from the worldwide race exposure – 'Nicorette' itself being one of over 3,500 products he either owns or oversees.
Race Sponsorship and Results
The difference between first place for 'Nicorette' and second place for 'Wild Thing' in 2000 was 30 miles of ocean, five hours in time and over US$1 million in sponsorship funds from its international corporate sponsor.
The sponsorship money is often used to purchase the best equipment, training and racing that money can buy to support the critical tasks demanded of the crew, skipper and each boat. The ocean and nature make no allowances for weakness in people or equipment.
Peter Bolton, a 28-year veteran sailor and first-time crew on the 2000 'Wild Thing' said: "We had guys on our boat like ex-AFL and two time Football Brownlow Award winner Gerard Healey. He is a legend in TV and radio in Victoria and played for the Sydney Swans for years. These are people who are committed to winning and giving 100% to the cause and the team.
"You can have 22 individuals who are champions on a boat, but to finish in Hobart in the top five, you have to have a championship team and the right equipment on your yacht – such as main sails and extra sails – which can really help that first place finish become a reality."
Grant Warrington, owner of 'Wild Thing', was quick to comment: "Our sponsors get the benefit of our boat being marketed as more than just a place for their name on the main sail or spinnaker, or on the side of the boat decking. It is an opportunity to have our sponsors use our boat for their corporate events throughout the year.
"Our three to four hour 'mini adventures' on the water with our sponsor's clients and guests are something that 99.9% of the population never get a chance to enjoy, let alone what we call corporates and the suits."
In 2000, sponsors for 'Wild Thing' included: Toll Express for $20,000; Sydney City Volvo for $20,000 and I 7 Paid Television for $ 50,000 - reports are, they felt their investment was well worth it for their company image and branding.
'Wild Thing' (about a $2 million dollar boat), finished 2000 in second place after four third-place finishing.
Grant is in a prime position to take it further, with his crew and equipment gaining the experience needed to win the big one.
Now sponsored by Australian Scandia Investments ( www.australianskandia.com.au ) for at least 2002 and 2003, Grant says the return to his sponsor is something that brings its own rewards, and that being associated with the race is a huge public relations exercise with the potential of millions in extra dividend payouts.
"For sponsors to have their customers, families and associates on the boat at times when it is in their area is a real thrill. Corporate dates are set in advance and are very popular for the sponsor. Their name on our main sail throughout the race is noticed on television and in print by hundreds of thousands of people leading up to and after the event."
Grant says: "This race is about a crew and a boat participating and being challenged to do their very best.
"We just need a little more backing and we can take this thing home for Australia. I am personally motivated each day to get up and work towards the day we bring Line Honours home for our crew, sponsors and country."
The reason that more and more corporations like Rolex, Qantas, Telstra, Nicorette, I-7 Paid Television, Alfa Romeo and Australian Scandia are going to be investing even more in the future for sporting events is very simple.
Sponsors are connected to 'events' at the level of the participants and the athletes. This, plus the wide coverage to a public and corporate audience, which is the ultimate target market for its products or services, makes sponsorship so appealing.
It is the actual significance of being involved with something that is bigger than the sponsor itself, as events often draw a market that the sponsor needs in order to expand its reach.
Catch a Rising Star
One of the best ways to succeed in sponsorship is to be affiliated to a winner before it happens... thus the sponsorship often pays off in major national or international coverage on television or in print media by backing a long shot, or one that is about to pay off.
In 2000, NIKE sponsored 19-year-old Lleyton Hewitt for $US33 million as a rising star after he had been noticed on the international tennis circuit as a 16-year-old.
In the same year, Venus Williams inked a sponsorship agreement for seven years at over US$100 million from Reebok. How many shoes and t-shirts do they have to market and sell to get a return on their investment in her as a tennis professional?
No one will ever really know, however corporates usually take calculated risks that pay off big. Anna Kornikova has never won a major tennis championship, however she is one of the most sponsored athletes in the world.
Why?
Obviously she has the potential to win, yet that has never happened. The star attraction to her sponsors is the market that she attracts – males that can't get enough of Anna and females who want to be like Anna.
This young market has an extra $20 - $150 each time Anna plays tennis, and they can easily be influenced to invest in whatever she is wearing or suggests is popular. The young women of her age bracket have the perception that when they wear the brand name clothing that Anna wears, they may have a better chance of attracting attention.
If image is everything, then Anna will be a billionaire through sponsorship in her lifetime.
Mary Kate and Ashley Olsen, of the US 1990s sitcom Full House, are two other teenagers taking the young buyer market by storm and are sponsored and backed by the giant retailer Target.
Sales of 'tween' brand dolls, toothbrushes, clothing and video games grossed $1.8 billion in 2002 in the USA, Britain and Canada alone, and Australia is on the list for 2003 for their range of products. Both girls have a net worth of over US$100 million each and are barely 16 years of age.
Fitting Last Words Regarding Corporate Sponsorship
The Late Fred Lebow, Race Director of the New York Marathon, was a Champion Marathon Ambassador and an Ultra Distance Marathoner, and was often regarded as the man who put America on its feet as a running nation between 1970-1985.
He said the following concerning gaining sponsors for the New York Marathon as critical to the race gaining its image as one of the most famous marathons in world.
"There are three essential elements to sponsorship: top athletes, big sponsors and network television. First, we had to convince the athletes that there will be big sponsors and network television involved.
"Secondly, we had to convince the sponsors that there would be network television and top athletes involved.
"Third, we had to convince television that there will be top athletes and big sponsors involved.
If ALL three believe it, it will all happen."
Quote courtesy of Bob Pritchard, Pritchard Marketing Group, Santa Monica, CA
SYDNEY TO HOBART YACHTING RACE SPONSORSHIP
Does your company want to reach a wider market?
Exciting opportunities exist for sponsorship, naming rights and travel aboard several Sydney to Hobart racing yachting teams.
The estimated visitors on the Sydney to Hobart live camcorder world wide web site in December 2005 ended up exceeding one billion views.
The six days of live coverage provides a great opportunity to have your company name on television, print media and radio in the South Pacific, across Australia and world yachting race communities.
Papers have included the Australian, the Sun-Herald, The Sydney Morning Herald, The Telegraph, the Macquarie Radio Network plus television stations line Channel 7, 9 and 10 with major daily coverage and i radio, bigpond, pod casts and webcasts internationally.
For a more information on the benefits of corporate sponsorship linked to target market, brand loyalty positioning, affordability, merchandise opportunities, product credibility indexing and Yacht to Sponsor Corporate Adventure Day trips and client on board seminars, enquires can be directed to SRI Australia +612 8250 4470 or SRI Singapore at + 65 6842 6085.
Only serious corporate enquires with a minimum of US $220,000 for a strategic alliance program with selected yachting partners need apply.
Interested in other strategic alliance opportunities?
If you have an interest in how strategic alliances or partnerships can help your organisation or how SRI can work with you or your company in Australia, New Zealand or SE Asia, e-mail or call SRI Australia or SRI Singapore.
About the writer / author
Rob Salisbury, B. Com, CSP has addressed over 450 Australian companies and over 2000 teams / events in the U.S. New Zealand, Singapore and SE Asia over the last 20 years.
Rob served as 2001 to 2003 President of the NSW National Speakers Association and five years as a Director on the Australian National Speakers Board. An industry recognised sales and marketing strategist, he was tranferred from sunny Scottsdale, Arizona in 1997 to Sydney Australia.
For more information, contact Rob in Australia at 0412 414 835 or our web site at www.strategicresources.com.au or
Need a speaker, corporate trainer, facilitator or business strategist for your next event with success stories and client results to imapct your team or executives?
If this article and topic has struck a cord with you, this can be delivered in a keynote address, a live interactive group presentation, a facilitated workshop program or tailored to your team or company objectives.
Services | Rob Salisbury | Clients | What People Say | Articles | Rob's Schedule | Public Seminars | Keynotes | Corporate Workshops | MC Services | Recommended Reading | Home
---
E-mail:



SRI Sydney

SRI Singapore

P +61 412 414 835
PO Box 98
Brighton Le Sands
New South Wales 2216
Australia





P +65 6842 6085
River Edge Complex
21 Sampan Place
Lobby 1, 14 - 01
Singapore 436593