Client Events and References


A Track Record of Results and International Business Experience
As a speaker, MC or workshop facilitator Rob has worked with over 450 different clients and over 1900 of their company events, sales meetings, conventions and product launches in the USA, Australia, Singapore, Hong Kong, New Zealand and Europe.
In addition, he has worked on special projects with teams from China, Indonesia, India, Japan, Malaysia, South Korea, Thailand, United Arab Emirates, North and South Vietnam, Germany, England, the Netherlands and Ireland to name but a few.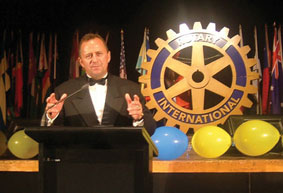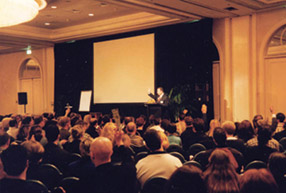 MC & Speaker - 2005 Rotary Centenary Event Presenting to approximately 400 people at Sydney Hilton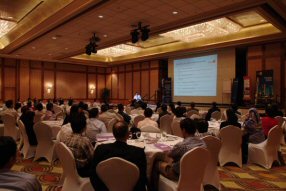 Presenting to approximately 120 people at the
Australian CPA Society Event - Meritus Hotel, Singapore


Click here for Rob Salisbury's Speaker Profile
Listed below are sample references from over 30 Australian Company Executives, Conference Organizers, University Educators, Managing Directors, Association Managers, Chamber of Commerce and SME Club Managers who have retained Rob or Strategic Resource International for their events.
For immediate information on how Rob can be of help, contact SRI on 612 8250 4470 or email .
What people say about Rob's presentations and conference work
---
Event MC, Host & Panel Moderator
"Rob Salisbury did a great job of emceeing (our recent Sydney event).
He had the right balance between protocol and fun - his planning and attention to detail ensured that the program ran very smooth.
Rob was able to generate a warm, positive energy for the event and his insightful questioning of the (CSP) panel ensured participants got the maximum value from the speakers."

David Koutsoukis CSP
National President
National Speakers Association of Australia
June 2010
---
Kick Off Speaker
"Dear Rob
Please accept our most sincere thanks for presenting to our members and guess on 19 January as our 2006 opening speaker.
Your time and thoughts shared on the topic of 'Revenue Generation and Profit Enhancement for Speakers' were invaluable to the audience.
Our members and guests have taken action as a direct result of the materials and information you presented.
Sincerely,

Janelle Wallace
Chapter Correspondence Secretary
National Speakers Association
Sydney NSW Australia
27 January 2006
---
Business Woman's State Conference
"To Whom it May Concern:
Recently, Rob Salisbury was our Saturday morning leadoff keynote speaker. Over one hundred businesswoman took part in his enlightening, informative and enjoyable presentation entitled, "Expanding our Horizons".
Rob's ability to read his audience well was very evident. His professionalism and knowledge of his subject proved to be of the highest quality with feedback from his opening presentation overwhelming and positive.
Another fully booked afternoon session giving further evidence to the depth of content and knowledge.
All whom attended his workshops, have chosen to be in contact with him and his teaching methods. A further testament to his focus at our conference and with the delegates.
Another added value to our conference was Rob agreeing to present a marketing ideas workshop on Friday afternoon to a very select group of local businessmen. Billed as a "men only session", all reports from those that participated confirm the information covered was an overwhelming value to them and a first time session success for our conference.
Our 'Women in Business' Conference Executive Committee is proud that Rob was involved in the early stages of our programming. He was fully engaged with our three day event and his post conference follow up further highlighting him as our right choice as a main session speaker and dual workshop presenter.
It is with pleasure I recommend him to any business, corporate body or active groups who wish, as we have, to broaden and expand their horizons".

Kristyne Van Schieveen
President
Women In Business Conference
Bateman's Bay Australia
9 August 2005
Sponsored by National Australia Bank
---
American Chamber of Commerce
On behalf of the Board of Directors, I would like to thank you for presenting to our 120 members at the Four Seasons Hotel on Strategic Referral Marketing.
Your remarks were enthusiastically received and our members and guests were impressed with the quality of your presentation.
Several members have called us and thanked us for organizing this event and very positive comments about the informative and insights that you provided.
Kind regards

Anthony Howard
General Manager
American Chamber of Commerce in Australia
Sydney NSW
25 February 2004
---
Wollongong Professional Business Network Function
John Grace and Ainsley Collins, Illawarra Business Club Executives and Evening Keynote Speaker, Rob Salisbury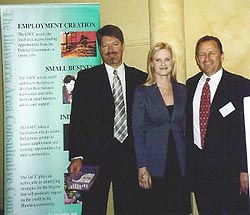 "Wow...you did it again.
You delivered another excellent presentation and a very different message to the one we you present in late 2002.
Your enthusiasm and message this year made the evening very professional and a presentation that was very relevant to the audience of 140 business people.
Our team and I look forward to working with you again in 2004.

Ainsley Collins
Illawarra Small Business Club Coordinator
Illawarra Area Consultative Committee
Wollongong NSW
20 November 2003
---
300 people celebrating at a recent formal engagement & dinner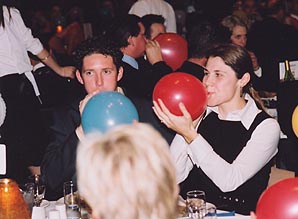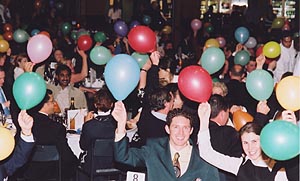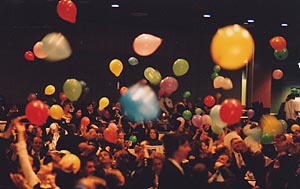 NSANZ National Convention
I thank you again for coming (from Sydney) to join us at the Wairakei Resort in Taupo for our fourth NSANZ conference.
We thoroughly enjoyed your terrific speaking style. Thank you for sharing your knowledge about the National Speakers Association and accreditation.
I loved the way you designed your Power Point support materials with our New Zealand logo...your generosity of spirit is much appreciated.

Lindsey Dawson
2003/2004 Chapter President
National Speakers Association of New Zealand
Auckland New Zealand
18 November 2003
---
Business Breakfast Meeting for 45 People
You certainly hit the mark with your presentation, Building Your Business.
Your practical approach and genuine manner engaged our members and guests from the outset and your SOMFAT business model making the information both useful and practical.
I used your SOMFAT model in a recent SWAP Management Team meeting to illustrate the effectiveness of approaching the running of our business club because the business process of these strategies were beneficial to all in attendance and the feedback has been excellent.
We appreciate your investment of time and commitment to SWAP and are welcome to join us as a speaker or guest at any time.

Noelene Dawes
2003-2004 President
CITY SWAP – Sydney NSW
5 November 2003
---
Business Owners Breakfast
Dear Rob,
"Your presentation was excellent. Your energy, enthusiasm and humour would have kept us listening but your content was the icing on the cake.
Solid and relevant information addressing challenges about our own businesses and solutions to what we can do.
Your ability to remember names and details from peoples initial introductions and then to use them in your presentation was impressive and obviously helped bring everyone on board.
Thank you - your presentation made the meeting a real highlight as we had hoped!"

Trisha Carter
2003 Program Director
Endeavour SWAP
Cronulla NSW
18 September 2003
---
2003 AIESEC National Conference
From July 6-12, the University of New South Wales hosted our National Conference for 2003 in Kensington.
Over 200 University students from 15 different educational institutions around the country attended this convention on cultural understanding, professional training, teamwork and leadership development.
Rob Salisbury facilitated three very impressive sessions over a day and a half time period entitled, "The Art of Positioning and Marketing YOU, Gaining new Confidence through the Selling Process and Dealing with Fear and Engaging It".
The objectives of each one of these sessions were that the delegates (approximately 70 students from commerce, management and marketing) leave with a clear understanding of specific things to improve their performance and results in representing AIESEC in their community and business endeavours.
Rob's presentations were enthusiastic, engaging, highly entertaining and well catered to the student audience demographics and their international backgrounds.
It has been a pleasure to work with Rob and we look forward to it again in the future."

David Gottlieb
National Marketing Director
AIESEC Australia
North Sydney NSW
12 August 2003
---
American Chamber of Commerce
On behalf of the Board of Directors, I would like to thank you for presenting to our 120 members and guests at the Four Seasons Hotel.
Your remarks were enthusiastically received and our members and guests were impressed with the quality of your presentation.
Several members have called us and thanked us for organizing this event and very positive comments about the informative and insights that you provided.

Anthony Howard
General Manager NSW
American Chamber of Commerce in Australia
Sydney NSW
30 May 2003
---
Rotary International
Thank you for the time you invested to share with us how on how to promote Rotary International at our 2003 NSW Presidents Elect workshop with our 60 delegates.
We appreciate your expertise in helping others to strive for their goals".

Cheryl Deguara
Chair of Public Relations
District 9750
Rotary International
Parramatta NSW
2 March 2003
---
Wollongong Business Function
We congratulate you on an excellent presentation that was not only highly motivational but professionally delivered to our 180 delegates.
Your enthusiasm, natural style and humour, combined to make your presentation highly memorable and professionally relevant to the small business audience.
The IACC and I look forward to working with you in the future,

Ainsley Collins
Illawarra Small Business Club Coordinator
Virgina Wren
IACC Executive Officer
Illawarra Area Consultative Committee
Wollongong NSW
15 November 2002
---
Chamber of Commerce
Dear Rob
Thanks for all the help over these last few months in helping to bring the Hurstville Chamber of Commerce "Grow Your Business" Seminar Series to a wider business audience.
I was wowed once again with your presentation on Monday night to the 50 plus participants who were there to see your present on marketing and branding ideas.
It has been three years since I saw you at the BEC conference at the Sydney Hilton and you have raised the bar once again for business people to get into their businesses and make a difference with their customers.
Our team is very excited about the seminar series for 2003. I look forward to working with you in the future to make an even bigger impact on our members and business owners in our market.

Valentina Colyer
Managing Director
Iris Tours
2002-2003 President
Hurstville Chamber of Commerce
Hurstville NSW
3 October 2002
---
Day Spa and Health Centre
Dear Rob
Thanks for all the help over these last few months in our new company image and launch to the public. Your emcee work over the last few nights and team support leading up to this week has been spot on regarding what we wanted to create.
We had originally planned on a few simple methods to get in front of previous customers, however, your product launch nights helped bring in waves of them plus new customers.
Our first one had 20 people as a "test night".
Two nights later, we had over 130 attendees with another 50 people standing around the others who were seated.
Our team was able to personally meet with over 45 highly qualified clients for one to one interviews within one hour of the evening presentations conclusion.
I conservatively estimate this worth over $60,000 in new business generated from both night presentations and the potential is into the hundreds of thousands in the future.

Will Cotterill
Managing Director
Revive Day Spa & Health Centre
Brighton Le Sands NSW (South Sydney)
2 August 2002
---
The 10th Largest Speakers Chapter in the World
Re: Your Eight-Competency Presentation at the Queensland NSAA Chapter
Dear Rob
One of the great things that we both share is the Presidency of two great Chapters of the National Speakers Association of Australia.
It's even better when someone like you comes up to Brisbane and supports our Queensland Chapter with two absolutely top presentations for members and guests on Monday. You showed the true "giving" spirit of the NSAA in action.
Enough already! Were they good presentations? No, they were excellent! The feedback received from our members has been extremely positive – not just from the new members, but also from those of us who have known and respected you for years.
Your subject matter was spot on for what was needed. Your presentation style was relaxed, full of personal examples and very audience involving.
I believe that you have helped to lift our bar even more! We now look forward to our new members accelerating their accreditation process and to our existing accredited members moving more quickly to the next level.
Thank for being who you are. I value our friendship and professional relationship.

Iain Duguid ASM
2001-2003 President
Queensland Chapter
National Speakers Association of Australia
Brisbane Queensland
3 July 2002
---
The 5th Largest Speakers Chapter in the World
Dear Rob
On behalf of our NSAA Professional Development Committee, thank you for your time, effort and knowledge that you shared with our members on the 17th June.
Your first workshop to our 60+ members and guests has had great feedback. If that wasn't enough, to come back two hours later at 8:45 at night for another session for the audience of 80+ was a great effort.
The overall comments about your time with us have been very good from all our teams' discussions with members and guests. There were many comments on your great mix of delivery, speaking style, pace, knowledge and "panache" as someone said.
We have a rating system for our speakers and we normally get a wide mix of responses from our audiences. Your session had 35 responses from about 60 people, which was a very good ratio.
The ratings from low to high were: 1 Fair, 9 Goods, 11 Very Goods and 14 Excellents which is the highest rating we have.
34/35 loved what you had to say and that was easily 97% of the audience on the night.
The written comments ranged from " wow - great motivator - his marketing tips are like gold - spoke very fast but obviously passionate about the subject matter - entertaining - energetic - fast paced - informative, common sense - important key points in marketing myself - a man with runs on the board - many thought provoking prompts".
Thanks again for organizing your schedule to be with us and for going the extra mile for our members and guests in Melbourne".

Michael Grose APS
2002-2003 Senior Vice President
Melbourne Chapter
National Speakers Association of Australia
Melbourne Victoria
27 June 2002
---
Regional Chamber of Commerce
"We had been expecting 30-45 members and guests to turn out for our May members night where you were our Guest Speaker for the night.
Imagine my delight when the numbers of confirmed attendees rose to 75 by the day before. We had to turn five away on the day because the venue for the program and dinner would not hold any more people.
We have never reached maximum attendance before. To tell people NOT to show up for this Chamber of Commerce Dinner event was a new experience. Your night was a complete "unplanned" sell out. The function made money for our Chamber as an event and will help our services for members and the community.
What made this night even more amazing was that a major winter storm system had been forecast for our area and when it hit, it hit hard. There was nowhere to hide. Rain and wind had many areas of the southern coastline in significant flooding problems all day.
People still drove from over an hour away and from all reports, had a great time in learning how to increase their business skills and promote their businesses.
For me, it was a GREAT night to be a Chamber of Commerce President. We have 8 new business members who have joined the Chamber as a result of your ideas, insights and the "atmosphere and networking" that was created in your 50 minute evening session.
I can absolutely recommend you to other Chambers, communities and associations undergoing similar programs and have already heard that the Nowra Chamber has booked you for their mid July members program. They are three times bigger than our membership and I plan on driving the hour between our towns to see you speak again.
Our Executive Team is looking forward to working with you on our member education programs in the near future and as we go forth with new initiatives for our business community".

Matt Dell
2002 Chamber President
Milton-Ulladulla Chamber of Commerce
3 hours South of Sydney
7 June 2002
---
Canberra Business Network Group
"Rob, you delivered on everything you promised. When we booked this event in December, I expected 25-30 business people would turn up. What a surprise in a relatively conservative city like Canberra to have over 50 business people at this function.
Your topic "How to Market and Brand You and Your Business" seems to be very relevant and timely right now. We had a number of people who were not able to be with us on Tuesday who have heard it was a great event at the Rex Hotel.
Managers from both major newspapers and the largest FM radio station with four of their sales and management team said they learned new ideas that they can use right away to take sales and business relationships to another level in their companies and teams.
Your preparation and customisation of the materials was most evident when you were quoting from our local sources and using their companies in the program presentation.
The manner in which you backed up the materials that you researched, lent credibility to a topic that is often glossed over and not easily explained to small to medium business owners and management. Many of those attending are looking forward to your follow up program in late May and mid June.
The first one is booked out and I can see we have a list of people already set for the second one. Thanks for being a top speaker for our business breakfast series...you have set a new standard in what we are trying to do in Canberra with our clients and local businesses".

Suzanne Weatherburn
Director - Founder
Business Intelligence Network of ACT
Canberra ACT
17 April 2002
---
Australia's University of the Year 1999, 2000, 2001 & 2002
"WOW...you were right on the money as the saying goes. The students loved your half day workshop on 'How to Market Yourself and Win the Job' last week.
The feedback sheets from the 25 University students and guests have been excellent. On a scale of 1-5, with 1 being the best rating, over 95 % had 1's and the rest were 2's....in other words, you covered the key areas for them.
I have already put your name and class feedback sheets forward to several other departments at the University. You have depth to speak on marketing and sales topics and areas that are 'real world' versus academics. This can be of great help in our students getting employed quickly once they are near completions of their Bachelors and Masters programs.
As you could see, we have a wide range of ages in our students from early 20's to mid 40's. Most of them have had a number of positions in the corporate world, however getting past their academics now, to the interview stage to getting hired is the real key of what we are trying to help them do.
I look forward to seeing you back in mid July for the other programs we have planned here in Wollongong. Thanks for your support of the students and University".

Camtu Pham (Masters in Commerce-Computer Science)
Director of Clever Link
UniCentre Student Leadership & Business Development Consultant
University of Wollongong
15 April 2002
---
Chamber of Commerce Project
"Thank you for your dynamic presentation 'Building a Better Bargo' at our Chamber of Commerce Dinner Function Tuesday night.
The feedback from our 30 members and guests has been excellent. You knew more about our town and history than those in the audience and I congratulate you on this. You were able to meet my brief for this event with total professionalism, enthusiasm and credibility.
A 150% effort in my book and I have seen a number of people who promised a lot and fell way short...you did the opposite and it showed with everyone.
I can absolutely recommend you to other Chambers, communities and associations undergoing similar programs. We look forward to working with you on our member education programs as we go forth with Building a Better Bargo".

Sue Johnson
2002-2003 Regional Coordinator
Bargo Main Street Project
Chamber of Commerce
Bargo NSW
28 March 2002
---
Australia's Largest Automotive Service Dealers Association
Approximately 85 BOSCH Dealers and Business Owners at the Coffs Harbour Ballroom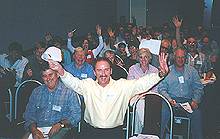 "What an 'unbelievable' conference at the Opal Cove Resort in Coffs Harbour.
Thank you for inspiring and motivating our 60 plus delegates at our Annual Dealers Conference. The Saturday morning session "The Bosch Journey" incorporated many of our quarterly functions over the past year while bringing innovations and collaborative benefits to the network of dealers we are building.
Your morning session message impacted the dealers so strongly that they encouraged their spouses to attend the afternoon general session called "You have a business...now get a life".
Over 85 people were there and it was the best program for our dealers and spouses we have ever had.
The adjustments and changes in our personal and business lives have been outstanding and this has continued since returning to our businesses.
We look forward to seeing you again at our May 2002 State Conference in Bowral".

Bruce Walker
Managing Director
Walker's Auto Electrics
Brookvale, NSW
Chairman
BOSCH Automotive Service Dealers Network
Received 4 October 2001
---
Executive Businesswomen's Breakfast
"Your presentation on "The Power of Personal Marketing" was extremely well received by all our delegates.
The one thing that stood out was the way you managed to have a group of 210 people interacting, networking and standing without anyone feeling isolated, embarrassed or self-conscious. This is an incredible achievement in itself!
You not only provided information that appealed to all criteria but you delivered this with passion, expertise and humour and provided valuable information that guests could immediately apply to their lives and careers.
You are a one-man dynamo that had the whole group active, participating, learning and laughing"!

Kim McGuiness
Managing Director
Centrum Events
Chatswood West NSW
27 July 2001
---
Business Woman's Association
"On behalf of the CW-BW, thanks for all your help. Monday night was a RECORD crowd and a bonus for the winter. In just one hour, you lifted the spirits of our group and added so much value to the members, guests and our local SME.
Your presentation was classy, fun, informative and your passion for helping people really showed through...I look forward to seeing you on the 7th July for our next series of workshops".

Sue Johnson
Regional Network Host
Camden-Wollondilly Business Woman's Network
Camden-Picton Region
19 June 2001
---
Department of Education and Training
"I have seen you present at many functions and you just keep raising the bar. Yesterday's presentation 'The Challenge of Leadership' was simply the best...the way you engaged and read the audience of 35 was the sign of a true professional.
Your delivery on the day was powerful, clear and concise. You illustrated and outlined strategies that my clients could put into practise immediately.
I look forward to working with you again in the near future (and have highly recommended you to the Smithfield Chamber of Commerce as their evening speaker for their next quarterly meeting in September 2001)".

Kerrie Poyner
Regional Training Coordinator
Granville College NSW
South Western Sydney Institute TAFE
8 June 2001
---
$100 Million IT Solutions Provider
"We had a management conference in late 2000 and realized then that we needed to have an inspiring, fun filled, educational and basically "kick butt" conference to get our 35 people fired up for our new vision and plans for our next ten years.
This two day sales conference was a historical event in the life of our company, as it was the first time in more than ten years that our group had been together in one place for the weekend. Rob, I would honestly say we didn't give you much time to pull this together as we only met 36 hours before the conference.
Your afternoon session regarding "Going for Gold in 2001" really got everyone fired up after lunch and was a terrific way to close out the afternoon program. Thanks for your contribution to our first major conference in ten years".

Andrew McCarroll
Managing Director
Mastech Asia Pacific
North Sydney NSW
28 March 2001
---
$300 Million Dollar Direct Sales Company
"Thanks for being our speaker for our March Training Event and Auction Night here in Canberra. The topic for our group "How to Have Your Best Year Ever in 2001" was just fantastic! The feedback from among the 55 people who attended plus the Sales Leaders who were there has been beyond expectations. We had a number of guests who were attending their first event with us and the right impression is always so important.
I also wanted to thank you for your inside information on promoting one of our newest product lines for our 2001 product catalogues and launches. With your North American and Canadian experiences you have had 15 years of personal knowledge and background on this single product I have no doubt that sales will lift by thousands in our region in the next month".

Leanne Duvall
Sales Director
Nutrimetics
Queanbeyan NSW
7 March 2001
---
Canberra SME Business Network Group
"What a wonderful morning as 140 business people were energized by your presentation How to Promote Market and Sell Your Greatest Asset ... YOU. Thank you so much for being our first guest speaker at the QBEC Business Breakfast Seminar on March 6.
The feedback from our members has been overwhelming in its praise for such a high calibre speaker and would be delighted to refer you to our head office as a speaker at our National Convention".

Meredith Husejko
QBEC Breakfast Co-ordinator
Queanbeyan NSW
15 March 2001
---
Sydney SME Business Network Groups
"As they say 'You Nailed It'. Our workshop on 'How To Promote, Market and Sell Your Greatest Asset...YOU' was the right message for our first meeting of the year at the Sydney Hilton.
What a great response from 60 people and a number of new people as guests for the first time. Rob, we have a lot of veterans who have been attending City Swap for over 15 years and often it is difficult to get them excited about topics that they may have heard of before.
You easily recognized those that have been in sales for over 20 years and they felt at ease and appreciated the acknowledgement of their contributions to the legacy and history of City SWAP. Stay in touch and thanks for making a difference in our SME group in this early part of the New Year. Continued success".

Roy McCullagh
Speaker Seeker 2001
City SWAP
Sydney Hilton Hotel
5 February 2001
---
"Thank you for being our opening speaker for our January 2001 meeting...we had a sensational meeting...the vibe and atmosphere was exactly what we wanted for our guests, members and committee.
Your talk conveyed practical, straightforward and valuable information for all 30 attendees in just 30 minutes. You continue to rate in Surfside's top 5 speakers and have since 1994".

Peter Kamper
President 2000-2001
Surfside SWAP
Manly NSW
31 January 2001
---
"It was great to have you as our kick-off speaker...you came at a good time for many of us who are just getting 2001 off the mark.
The seven simple ideas are ones that can be easily implemented into even the busiest schedule. You inspired us and gave us ideas to help lift our standards. Thanks for your enthusiasm and dedication".

Trevor D'Enyar
President 2000-2001
Penrith SWAP
15 January 2001
---
Australian Institute of Management
"Thank you for being our October guest speaker on Halloween Night, Tuesday the 31st October.
The average attendance at AIM Network (Workshops) is approximately 40. Attendance at your presentation 'How to Promote, Market and Sell Your Greatest Asset ... YOU' exceeded this by 250%.
You had the audience on the edge of their seat and obviously thinking about what was being presented to them and how it would make a difference to them and their businesses".

Kerrie Poyner
Chair - Personal Empowerment Workshop Series
Australian Institute of Management
North Sydney NSW
15 November 2000
---
Largest Selling Bookstore in Australia
"Thank you for your presentation at our recent conference at the Fairmont Resort in Leura. The feedback from my team as a result of the weekend has been extremely positive and every person bar none has re-evaluated their own lifestyle to some extent. I am supremely confident that FMCS will enter the new millennium in great shape".

Craig Scutella
Managing Director
FMCS Enterprises Pty Ltd
No 1 Dymocks Store in Australia
428 George Street Sydney, NSW
19 May 2000
---
SME Business Network Groups
"As Speaker Seeker for our group and as a Financial Services Manager and Financial Coach for many years, I have experienced more than my fair share of the best Australian and International speakers and presenters. To date, we have had many great speakers at our meetings who have provided valuable information.
You stand out from even these people. To the best of my knowledge no previous speaker has put so much successful effort into the preparation of their session for our meeting as it hit the mark and parts were specifically for our audience....Thank You".

John Jones CIAM
SWAP Illawarra
Wollongong East NSW
28 October 1999
---
"I have engaged many speakers and trainers in both the private sector and in the Australian Public Service and I would place you up there with the best.
We had a 30% increase on attendance for your presentation. The feedback from our members and guests has been extremely positive".

Kerrie Poyner
Program Director
City SWAP
Sydney Hilton Hotel NSW
7 October 1999
---
"What a way to start the day...everyone there totally enjoyed themselves! Your innovative ideas on service, promotion, marketing and referrals were incredibly simple and yet so applicable.
Thanks for the fabulous tips and handouts that our members can utilize immediately for better results in their businesses".

Teri Moxham
President
Endeavor SWAP
Miranda NSW
6 August 1999
---
"Thank you for the support you gave me with the June 1999 Sales Induction Programme.
Your presentation to our 60 people on Wednesday night has received great feedback and your message with John on creating "Raving Fans", is exactly how we see ourselves in delivering value to the marketplace. As always, your energy and infectious enthusiasm rubbed off on the team".

Geoff Andrews
Business Direct - Sales Development Manager
Cable & Wireless Optus
North Sydney NSW
28 July 1999
---
National Book Seller
"Your presentation on 'The Five Pillars of Excellence' was of exceptional quality and very inspirational for my troops. The feedback from my management team and staff as a result of our weekend conference has been extremely positive and every person bar none has re-evaluated their own lifestyle to some extent.
In talking to a colleague about you recently, I called you a "Motivational Technician" - a person who specializes in the practical science of getting individuals to believe in themselves and achieve incredible things".

Craig Scutella CEO
428 George Street, Sydney
FMCS Enterprises Pty Ltd trading as Dymocks Booksellers
Dymocks #1 Book Store in Australia
3 April 1999
---
National Real Estate Franchise
"Well, you did it in 1995 and once again at our first Awards function for our top 130 sales and management achievers in 1999.
Your '5 Pillars of Team Excellence' was an excellent presentation and the feedback has been enormous".

Bill Robinson
National Training Manager
Century 21 Australia Head Office
Sydney NSW
4 February 1999
---
Services | Rob Salisbury | Clients | What People Say | Articles | Rob's Schedule | Public Seminars | Keynotes | Corporate Workshops | MC Services | Recommended Reading | Home
---
E-mail:



SRI Sydney

SRI Singapore

P +61 412 414 835
PO Box 98
Brighton Le Sands
New South Wales 2216
Australia





P +65 6842 6085
River Edge Complex
21 Sampan Place
Lobby 1, 14 - 01
Singapore 436593