Rob Salisbury B. Com.,CSP


Click for Speaker Profile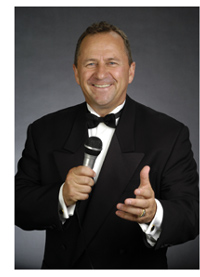 Click for Sales Training References
Click for Master of Ceremonies References
Low Risk Ė Top Value - High Returns
Predominately engaged as a large scale conference speaker, sales trainer, event MC and presentation evaluator, Rob has been involved with over 520 clients and 2020 organisational events to bolster team results, enthusiasm and company spirit.
Experience - Results - Team Work
During the entrepreneurial 1980's, Rob was instrumental in driving new revenue and results in re building one of four United States based Tom Hopkins International (THI) Sales Training Centres.
Rob was the North Western U.S. & Canada Sales Manager for the THI office based in the technology rich city of Bellevue Washington. .
Within a year, Rob was asked to expand the west coast US operations of Tom Hopkins Marketing and Seminar operations in which he relocated to the Orange County office in Irvine, California.
The skills of recruiting, hiring, training and motivation as taught by Mr. Hopkins were instrumental in Rob developing the most productive tele sales and field trainers in the companies history.
As a result, capacity audiences were in attendance for seminars taught by Mr. Hopkins in Irvine, Anaheim, Los Angeles, Burbank, Riverside, San Diego, San Jose, San Francisco, Portland, Seattle, and Sacramento, the capital of California.
These results led to a promotion and relocation to the Scottsdale, Arizona head office to further develop the most successful Tom Hopkins seminars as measured by attendance and product offerings sold.
Rob was inducted into Tom Hopkins / RSM Presidents Club for sales achievements in 1988 in his first year of qualification.
As Vice President of Marketing and Sales, his responsibilities over the next few years included tele sales recruitement & development, regional and national account growth strategies, field team recruitment and development, training and speaking at client events and achieving personal and team revenue production targets.
Local, regional, national and international expertise
With international news of the 2000 Olympic Games being awarded to Sydney Australia in September 1993, Rob was asked to bolster sales operations for Tom Hopkins most successful training and seminar agency based in Sydney Australia for 1994.
Rob's role with Sales Pursuit Pty Ltd in 1994 helped ensure sold out events with thousands of delegates attending Mr. Hopkins programs held in Brisbane, Sydney, Melbourne, Adelaide, Perth, Auckland, Singapore and Manila.
From 1995 to 2000, Rob became a driving force in leading the various marketing agents and sales teams who filled conferences and large scale events before, during and after Mr Hopkins tours.
In addition, Rob and his team members filled events for authors such as Jim Rohn, Anthony Robbins, Brian Tracy, Zig Ziglar, Dr Deepak Chopra, Jay Abraham, George Walther, Dr Stephen Covey, Robert Kiyosaki, Tim Shaw, Wayne Berry, Doug Malouf and General 'Stormin Norman' Schwarzkopf.
Having personally sold millions of dollars of professional development products and conferences over the years, Robís specialty skill in training and building teams was replicated over and over again.
Rob's numerous project sales teams produced tens of millions revenue for these speakers and authors through live programs, in-house programs, professional development events, books, audio learning programs, c.d., DVD and on line learning programs.
Contributing Writer, Author, Mentor
Rob has been a contributing writer, co author and mentor to numerous books, educational audio and DVD programs including:
Power Talking 1992 US Best Seller
How to Promote and Market Your Greatest Asset...YOU! 1995
There is More to Life than Sex & Money 1997 Best Seller Australia (over 70,000 copies sold)
How to Promote, Market and Sell Your Greatest Asset...YOU! 1997
The World's Best Sales Tips 2005
How to MC Almost Anything 2005
The Speaker's Compass (How to Navigate the Professional Speaking Maze) 2006
How to Promote, Market and Position Your Greatest Asset - YOU! 2009
Emerging Trends in Professional Selling - Volume 1 June 2011
88 Essential Secrets for Achieving Greater Success at Work release date February 2012
The Nine Human Essences for your business success - December 2012
Emerging Trends in Professional Selling - Volume 2 publication release date June 2013
His numerous articles and case studies have featured in Quorum Magazine, Corporate Trends, the Australian Financial Review, Work From Home Magazine, Professional Marketing, Business and Trends, St. George Business Review , Sydney Business Review,Sydney Convention and Visitors Bureau" e-news, MICE Asia, The Singapore Straits Times, Human Resources Today Asia), Walk Your Talk Magazine (Singapore) and Contact Singapore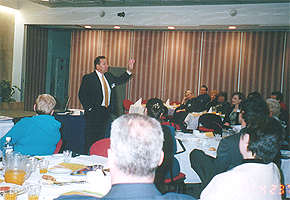 2001 to 2003 President, National Speakers Association of Australia (Sydney)
Following the 2000 Olympic Games hosted in Australia, Rob was elected by NSAA members as 2001 to 2002 President of the National Speakers Association Chapter in Sydney.
He was re-elected for a second team which concluded 31 March 2003. In addition to this role and in driving the development of National Speakers Academy and Spring Skills Programs, Rob was a Director on the NSAA National Board 1999 to 2003.
He has continued as an advisor and mentor to numerous NSAA Executive Team Members and financial NSAA members to present day.
He has frequently served the NSA Australia, NSA New Zealand and Asia professional Speakes Association as an instructor for specialty topic courses, as an MC / Host at various chapter events or as a keynote speaker / breakout session trainer at National Conventions and Regional Conferences.
Largest Speakersí Chapter Worldwide
Applying business concepts and systems learnt in corporate and private venture experiences, Rob developed a 14 member volunteer executive team and chapter KPI plan to re build the Sydney Chapter into the largest speakerís chapter of 65 worldwide.
Team and Chapter results included a 38% annualised new memberís growth rate in 2001 and a 34% annualised new memberís growth rate in 2002 to nearly 300 financial members at year end.
Combining educational competency learning programs and clear communication to members, alliance partners, vendors and sponsors, NSW NSAA Chapter member retention rose from 52 % in 2000 to 81% year end 2002.
With succession planning built into his 2002 to 2003 plan, Rob transitioned to a mentor role while the Sydney NSW Chapter continued as a premium professional speakerís chapter and model to other associations and non profit organisations.
ADDED VALUE SESSION CREATOR
Rob continued his support of and in the mentoring of NSAA as creator of the NSAA Added Value Sessions.
These mini workshops taught over an hour time frame in advance of NSAA regular chapter meetings were free for NSAA financial members and a small nominal fee to non members or the public.
All proceeds from these events are in support of defraying operational costs associated to the National Speakers Association o Australia and have continued since being introduced in 2001.
2003 NSAA Walter Dickman Service Award Recipient
Created in 1995, this service award pays tribute to Mr. Walter Dickman, whom many consider the founding father of the Australian speaking industry.
Mr. Dickman started his speaking and training career in the 1950's and helped pioneer the speaking and training industry over a 50 year time span.
He built immeasurable goodwill throughout hundreds of communities and millions of people who heard of his inspiring stories and messages. Mr. Dickman (*) was still making an impact as a goodwill ambassador, mentor and professional friend well into his mid 80's.
The Walter Dickman award is given annually to an individual considered by NSAA peers to have given service above and beyond that expected of them in promoting, assisting and developing the NSAA Chapter based in Sydney Australia.
In that degree, the recipient of the Walter Dickman Service Award is deemed one who has built a better community through professionalism, service, commerce and spirit.
(*) On 11 October 2009 Mr. Dickman peacefully passed away - he was 91 years young.

2003 Walter Dickman Service Award Recipient
Certified Speaking Professional (CSP)Designation
CSP is an International Designation and accreditation awarded to members who have achieved performance standards (at the time) in the following areas over a minimum five-year qualification period:
Rob qualified for this designation between 1997 and 2002.
The formal proceeding for teh CSP ceremony were recognised at the Melbourne Australia National Speakers Association Convention March 2004.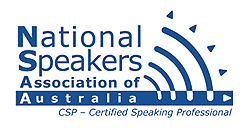 250 paid engagements (minimum)
Engaged by at least 75 different clients (minimum).
NSAA Member two years prior to submission of application.
Testimonials of work performed from at least 20 of the 250 engagements.
Passed NSAA business compliance and education requirements.
Attendance at six Chapter functions and two National Conventions.
Attained (a minimum) professional fees of $250,000 from speaking, training, facilitation, public training programs and as an MC. (consulting, product sales or coaching/mentoring income did not apply.)
2004 NSAA Presidents Award
Given December 2004 for contributions to the NSW NSAA Chapter for driving educational learning programs, mentoring fellow members and in guidance to the Sydney based N.S.W. N.S.A.A. Executive Leadership Committee.
2007 Directors Award - Business Swap International]
A national honour from Business SWAP International, Rob was given the coveted Directors Award by National President and Senior Board Director, Ms Lee Clark.
This award has been given to approx five people since SWAP Australia & New Zealand began in the late 1970's.
The award acknowledges contributions and service to Business Swap over many years by individuals who are not members of SWAP, however have served members, guests and the organisation by promoting the values, ethics and SWAP business clubs to Australian and New Zealand communities.
International Federation for Professional Speakers / Global Speakers Federation
An active member of the International Federation of Professional Speakers since 1997, Rob continues to mentor new speakers and emerging experts in the speaking and training industry.
Since 1996, Rob has spoken on dozens of occasions at IFPS and GSF chapter events and conferences in New Zealand, Australia and Asia.
Asia Professional Speakers Association in Singapore 2004 to Present Day & NSA of Australia
2004: Scott Friedman CSP, 2004 /2005 US National Speakers Association President asked Rob to act as a South Pacific liaison / advisor to the Executive Board of the Asia Professional Speakers Association in Singapore.
2005: Advisor to APSS Executive Board.
Working closely with Scott and the Singapore Executive Team, the inaugural Global Speakers Summit (conference) was held 31 March to 3 April 2005.
Over 300 delegates attended from the United States, Canada, Europe, South Africa, Australia, New Zealand, China, Malaysia, Thailand and the UAE.
Rob's key role was in strategic planning, marketing, country liaison to Australian and New Zealand delegate bookings plus as a program emcee, host and speaker at concurrent sessions.
2005:
Testimonial for supporting NSA of Australia and presenting at NSAA Professional Speakers Academy from 2005 President Rodney Marks CSP.
2006 and 2007: Advisor to APSS Executive Board.
MC and Host for the Asia Professional Speakers Singapore Conference 17 & 18 May 2007 at Singapore Grand Copthorne Hotel.
2008: Advisor to APSS Executive Board
Key note speaker for the 2008 Conference held on 3 & 4 April at the Carlton Crest Hotel Singapore.
With congratulations from 2008 Conference Chair David Lim and incoming President Christian Chua, Rob was re booked as conference Host / MC for the APSS National Conference schdduled 8 May 2009 at the Furama Riverfront Hotel Singapore.
2009: Advisor to APSS Executive Board.
Featured on USA NSA Voices of Experience Audio / CD program January edition & interviewed by VOE Chair Camille Valvo
Beyound Border Feature Writer and article in USA NSA Professional Speaker Magazine - June 2009
MC & Host at the APSS National Conference 8 May 2009 at the Furama Riverfront Hotel Singapore.
2009 ADDED VALUE SESSION CREATOR
Rob continued his support of and in the mentoring of APSS members as creator of the APSS Added Value Sessions.
These mini workshops taught over a one hour time frame in advance of APSS regular chapter meetings are free for APSS financial members and a small nominal fee to non members and the public.
As inaugural presenter February 2009, Rob's topic was designed to help members and guests increase their competency and skills as MC's and conference / event hosts.
Rebooked October 2009 to teach members and guests how to gain more business from attending trade shows and international expositions.
All proceeds from both events were donated to the Asia Professional Speakers Association in Singapore.
2010: Executive Member / advisor to APSS Executive Board. & NSAA Sydney & ACT Chapters
Rob and fellow APSS member Tina Alteri were chosen to co host and emcee the first APSS charity speaker event held at the Singapore Institute of Management to Campus on 1 March 2010.
This event raised approximately $40,000 to the Singapore Cancer Society.
Founding member of CSP Council of Asia
Creator / Co driver : CSP Roundtable Event June 2010 at NSA of Australia Sydney chapter.
2011 Executive Member / advisor to APSS Executive Board.
Rob was the coordinator and MC/Host of the Tom Hopkins 30th June Singapore speaking engagement (Sheraton Hotel) to members and guests of the Asia Professional Speakers Singapore chapter meeting.
Creator / Chairman : Inaugural Singapore CSP Roundtable Event 22 November 2011
2012 Mentor / Advisor to APSS Executive Board
January kick off speaker / mentor for members luncheon
Contributing Author - APSS Book 88 Essential Secrets for Achieving Greater Success at Work Available from leading bookstores in Singapore and through direct orders from SRI home page $25 rrp.
Featured Roundtable CSP and speaker in sydney Australia - July
Featured added value session and main presentation speaker at NSAA Sydney Chapter on growing a speaking business in Asia - September
Featured session closing speaker at November year end members meeting - Rob's topic was 'How to Get More Business from Expo's & Tradeshows
2013 Mentor / Advisor to APSS Executive Team / Board
Featured Roundtable CSP and topic speaker in Singapore - June
Client Pledge and Guarantee
One of the reasons Rob has been booked and re booked by 500 different organisations and over 2000 times as a speaker, trainer, event host or MC is our SRI client pledge agreement and guarantee.
To find out more about this client pledge and guarantee, ask us during your briefing enquiry.
What can YOU expect to gain by working with Strategic Resources International?
SRI P/L and our alliance partners understand how important it is to GROW and RETAIN internal customers while expanding core services to new customers through innovative growth opportunities.
To learn why we are re booked for company sales conferences, training events, hosting or as MC's for large functions, consulting and strategic marketing projects visit our "What People Say" section of this website.
For information about how Rob Salisbury can enhance your next event or conference call your favourite Speakers Bureau for further information.
Alternatively, contact SRI Sydney at +61 412 414 835 or e-mail or contact SRI Singapore at +65 6842 6085.


Services | Rob Salisbury | Clients | What People Say | Articles | Rob's Schedule | Public Seminars | Keynotes | Corporate Workshops | MC Services | Recommended Reading | Home
---
E-mail:



SRI Sydney

SRI Singapore

P +61 412 414 835
PO Box 98
Brighton Le Sands
New South Wales 2216
Australia





P +65 6842 6085
River Edge Complex
21 Sampan Place
Lobby 1, 14 - 01
Singapore 436593